Greetings Friends,
I am pleased to be able to share my 2023 MAY Regina Real Estate Market Report!
MAY 2023 Monthly Housing Market Trends Report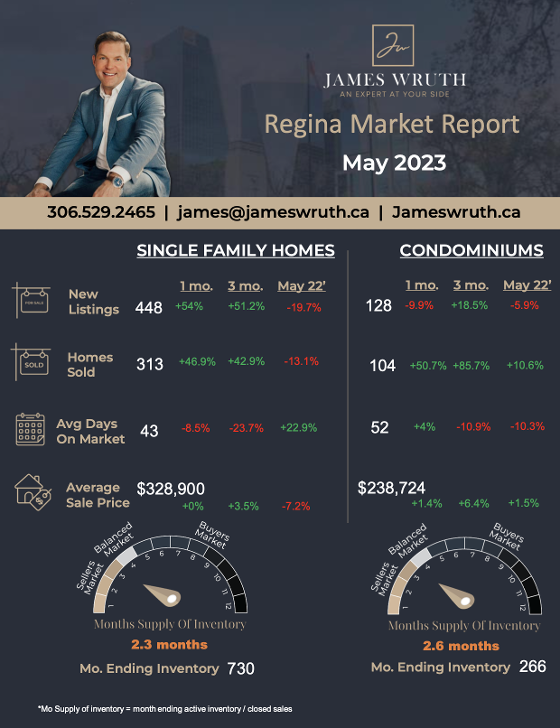 There were 1,736 sales recorded across the province in May, resulting in a four per cent year-over-year decline. However, despite the year-over-year decline, sales levels were 20 per cent above long-term, 10-year averages.
Stronger sales in May were possible due to recent monthly gains in new listings. While the seasonal boost in new listings also caused inventories to trend up over the last month, inventory levels remain lower than levels reported in the previous year. They are at their lowest level reported in May since 2008. While year-over-year inventory levels have improved for homes priced above $300,000, more was needed to offset the declines occurring in the lower price ranges.
City of Saskatoon
The City of Saskatoon reported 538 sales in May, nearly identical to sales in May 2022 and well above long-term averages. Despite seasonal gains in new listings, inventory levels remain well below the 10-year average.
Higher sales and lower-than-average new listings prevented any significant change in inventory levels, causing the months of supply to fall to two months. As expected, tighter market conditions are placing upward pressure on home prices. Saskatoon's benchmark price reached $380,100 in May, a monthly gain of nearly two per cent.